Eager to learn what we have penned down for you? Basically, there's a whole story behind conducting this Azalea Health vs Charm Health comparison. On various platforms, we noticed that care providers couldn't seem to decide between these solutions. So, we thought, what if we present a detailed Azalea Health vs Charm Health face-off. But, it's nothing like typical EHR comparisons. We are not going to conduct a side-by-side. Instead, we will weigh Azalea Health in terms of Charm Health EMR to help you comprehend why users think Azalea Health is the most suitable EHR for clinical practices.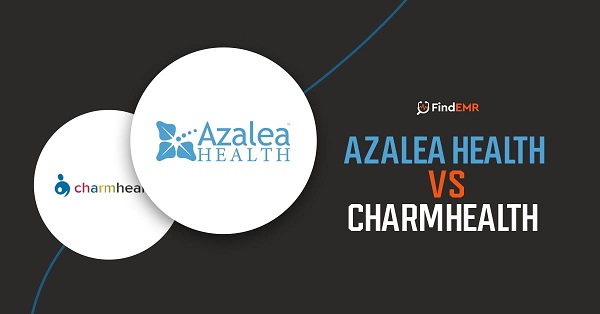 So, let's begin the distinctive Azalea Health vs Charm Health comparison.
Azalea Health
Azalea is not a typical EHR solution but an innovative one that does more than aiding healthcare professionals. This intuitive software allows the public to manage their health better by getting instant access to their healthcare records. What backs the claim of the vendor's intuitiveness is the fact that it supports valiant functionalities for practices, hospitals, and health systems. It is just an initiative from Azalea's end to deliver solid care services.
Azalea Health EHR is extremely beneficial for seamlessly eliminating the clunkiness from clinical procedures. The vendor is run by an industry-recognized team equipped with thorough clinical knowledge and exceptional management skills. The surprising fact is that Azalea Health EHR is ranked top for small practices by KLAS. Also, this solution boosts the patient outreach of medical practices with its exceptional feature range.
A Review of Azalea Health Features:
A prompt review of Azalea Health's features will help you distinguish it from Charm Health. There's a significant difference between the Azalea Health and Charm Health EHR features. Azalea offers point-of-care services and leads to meaningful patient interactions. It shapes the overall workflow of medical practices with its exceptional feature range.
This Azalea Health services review is enough for you to understand that the vendor is designed on a strategic approach. So, none of its services are baseless. Every feature of Azalea Health EHR is designed for a specific reason, and together all the services improve the clinical performance.
Here's a detailed review of all the distinctive features of Azalea Health EHR, not available in Charm Health EHR.
Business intelligence Analytics
Azalea operates with business analytics operations to boost the financial performance of practices. In addition, this operational solution conducts healthcare analytics reports and helps overcome the financial stability status of practices.
The pre-authorization services of Azalea Health beat all the features of Charmhealth in one go. It simplifies the pre-cert process that takes place between insurance companies and healthcare practices. In addition, the vendor features a summary screen showing the pre-cert status.
One-click SOAP notes
Eliminating the need for paperwork, Azalea Health features one-click SOAP notes. The instant SOAP notes creation saves golden time for practitioners and helps document patient notes faster.
Chronic Care Management
The chronic care management services help look after complex patient cases. It covers patients suffering from cancer, tumors, and other delicate diseases. This service assists providers so they can diagnose and treat patients efficiently.
Quality Reporting Dashboard
This is one of the best features of the vendor, nowhere to be found in Charm Health EHR. This comprehensive dashboard presents a real-time view of performance reports. Also, the reports are created based on set KPIs and thus help gain quality insights.
Capture Billing Codes
Medical professionals don't have to worry about billing inefficiencies anymore. Azalea Health EHR provides clients with a charge capture facility. It ensures that all patients are charged rightly and minimizes the errors in the bill management process.
Telehealth
The virtual care functionality of Azalea works at its best. This service is even covered in the Azalea Health EHR demo. It allows for remote patient monitoring, and online consulting, and even lets providers edit patient notes side-by-side.
Accounts receivable management
Keeping tabs on accounts receivables has never been an easy task. But Azalea Health offers this impeccable service at a low price. As a result, care providers can use this cost-effective service to manage their accounts receivables on the web instead of hiring financial experts.
Patient collections
The patient collection is a solid futon that helps maximize the reimbursement rate. All patient collections are dealt with care. Reminders are sent to patients to clear invoices in due time. It assures physicians get what they own in the first place.
Account maintenance
Azalea works to ensure providers are not faced with any kind of distractions. SO, to keep doctors focused on their patients, Azalea Health EHR offers account maintenance services to keep everything in check. This way, doctors get to deliver optimal care.
Consulting Services
Here's the catch, Azalea offers built-in consultation services without any added price. This EHR platform guides practitioners through thick and thin to help them beat all the challenges that come their way and helps them optimize, streamline and boost clinical performance.
API MarketPlace:
Azalea features an API marketplace that Charm Health EHR does not offer. It is an integrated app store with pre-existing solutions. This integrated app store is fully-functional and breeds a meaningful user experience by helping providers choose the right applications.
Time to Make The Right Call:
In Azalea Health vs Charmhealth comparison, it is evident that the former offers an exceptional yet efficient feature range. We can say for sure that even if Azalea Health charges more than Charm Health, its price tag is worth it. Having all these features is a blessing for medical practices as they open a pathway to success. To compare the services of Cham Health EHR and Azalea Health EHR for real you should set up a demo. The demo for Charm Health EHR and Azalea Health EHR is available for free and you can readily request it by visiting their websites. Know that price is just a label, so don't turn down Azalea Health EHR for its price tag.