Dust X – Pre-Workout by Blackstone Labs
According To- Blackstone Labs Dust X – Pre Workout ! , If you're looking for a hard-core pre-workout, Dust X is the one for you!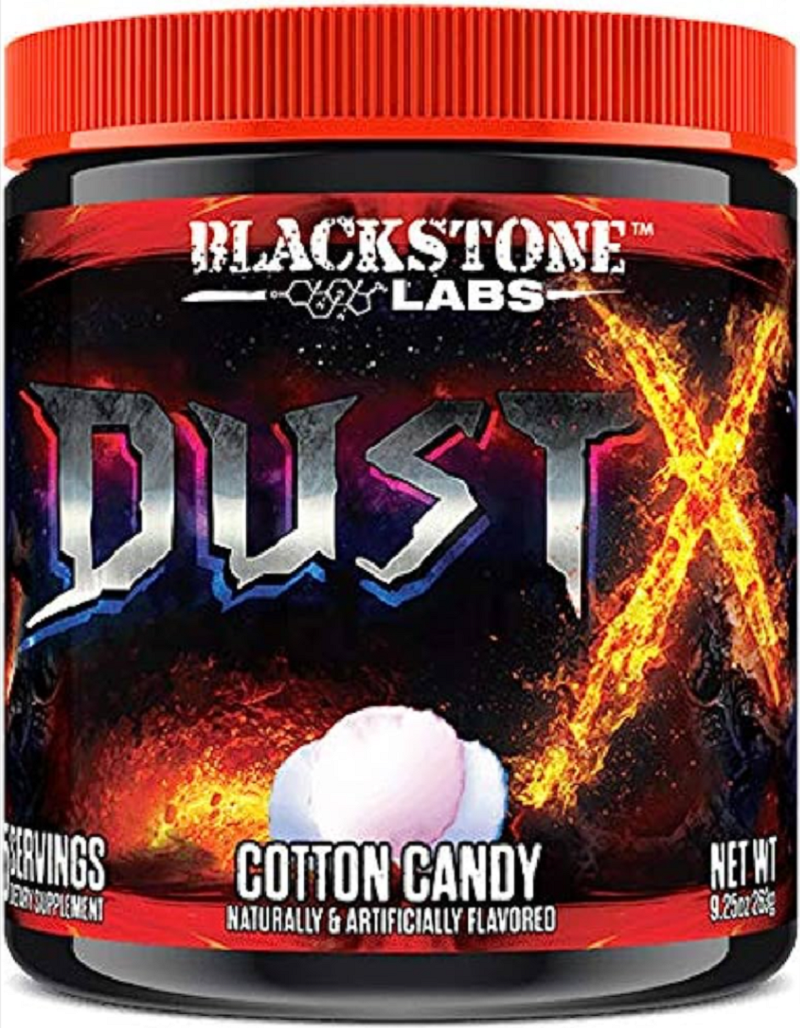 Dust X: What Is It?
This is the strongest pre workout that Blackstone Labs manufactures. It contains a total of 10 fully disclosed ingredients. Unlike most pre workouts, you know exactly what you are getting with Dust X.
What is the process?
The ingredients are:
As a result of citrulline malate 2:1, nitric oxide production is increased, leading to improved blood flow, pumps, and vasodilation.
It can enhance stamina and reduce fatigue by buffering lactic acid build-up.
Citrulline Malate: Works well with Agmatine Sulfate to promote dense, long-lasting pumps.
This can help you focus better on your gym workouts. L-Tyrosine: Enhances focus and alertness.
It can improve concentration and the mind-muscle connection.
Phenylethylamine: promotes a better mood and general sense of well-being.
Anhydrous caffeine increases energy and focus.
An DMAA-like stimulant, 2-aminoisoheptane (DMHA) promotes focus and energy.
The herb Nelumbo necifera (standardized for higenamine) is a vasodilator. This leads to larger pumps and better nutrition for your muscles.
During training, Huperzine A (Huperzia Serrata) (Moss) improves concentration, focus, and alertness.
Is there anything I should expect?
Amount of energy
Pumps for muscles
Please focus on
Is DMAA present in Dust X?
In short, no, not yet. Back in November 2017, the FDA stopped Blackstone Labs from manufacturing with DMAA, and the issue has been in court ever since.
Dust Extreme was discontinued (until further notice) and replaced by Dust X. Dust X does not contain DMAA. DMAA has since been replaced by 150mg of 2-aminoisoheptane.
Since the new formula was introduced, we've received hundreds of positive comments and sales have grown. Dust X remains one of our top selling pre-workout supplements.
Take a look at our customer reviews. Customers who took Dust Extreme with DMAA and now take Dust X have seen positive results.
Customer Reviews Featured:
Jazmin's review:
I have been using this pre for years now, the focus and pump are unlike anything else, the flavor is okay-cool lime is acceptable.
Allen's review:
One of the best pre-workouts I've ever tried. It gives me insane energy and focus, and I definitely liked the pump it gave. The only downside is the crash after about three hours.
Is it suitable for everyone?
This is the perfect pre-workout for stim junkies who want a boost of energy that gives them that crack feeling.
Frequently Asked Questions:
Dust X, what happened to him?
Dust X has been temporarily unavailable due to shortages of the ingredient DMHA. Dust X will be available again in 2022.
Is it possible for women to handle it?
This product is suitable for both men and women.
What flavors does it come in?
Seven flavors are available: Cherry Limeade (Exclusive to us), Sour Gummy Bear, Cotton Candy, Pineapple Mango, Passion Fruit, Cool Lime, and Candy Apple.
Is there a favorite flavor?
Our most popular flavors are Pineapple Mango and Sour Gummy Bear.
Can you tell me how much caffeine it contains?
Each scoop contains 350mg of caffeine.
Has it been banned or discontinued?
There is no ban on it, and it will continue to exist.
Does it contain vegan ingredients?
Although Blackstone labs claims the product is vegan, it's manufactured in a facility that uses non vegan ingredients.
Is it okay to take it on an empty stomach?
Dust X can be taken on an empty stomach.
Does it follow the original formula?
The formula has not changed.
Is there creatine in it?
Dust X does not contain creatine.
Also Read-Blackstone Labs Dust X – Pre Workout !
Products that are similar to these:
Dust X VS Dust Extreme: Dust X is the replacement for Dust Extreme. The main difference is that Dust X has DMHA in place of DMAA. This will change the feel of the energy, but, not in a bad way. Rather than hitting you all at once, it will have more of a build-up and come down effect. Hence, you won't get the crash like you would with most DMAA preworkouts. We have written a blog post explaining the difference between the two.
The difference between Dust X and Dust V2 is that Dust X is stronger. Dust V2 has fewer stimulants. If you thought Dust X was too strong, Dust V2 might be the right choice.
Dust X vs Dust Reloaded: Dust Reloaded has a higher caffeine total than Dust X, but Dust X stands out because it contains DMHA.
Both are great pre-workouts, and we recommend trying both to see which you prefer. Mesomorph has a better pump complex, while Dust X is better for energy and focus.
Compared to Total War, Dust X is better in all aspects of a pre workout. If you are looking for a pre workout with less caffeine and stimulants, Total War is a good option.
Dust X VS Mr Hyde: Both have similar energy and focus levels, but lacking a pump complex. If energy is your primary focus, this is a good choice.
Dust X: What can I stack it with?
For better focus and pump, stack it with Hype Reloaded.
What is the best way to take it?
Dosage and directions:
One (1) scoop of Dust X mixed with 8-10 oz. of water 30 minutes before working out is recommended. Due to its extreme potency, new users should test their tolerance with one half (1/2) scoop first.
Dust X Pre Workout: What's In It?
Label / Supplement Facts:
Image of Dust X Supplement Facts
Side effects and warnings:
It is not recommended to take this product by individuals under the age of 18. Consult a licensed health professional before consuming this product. It is not intended as a sole source of nutrition. It should be taken in conjunction with physical training or exercise. You should avoid inhibitors, alcohol, and medications.
This product should not be taken by anyone who has a medical condition or who is pregnant or nursing. Do not exceed recommended servings, as this will not improve results and could result in serious adverse health effects. In the event of an accidental overdose, contact a poison control center immediately.
You should consult a doctor if you experience any of the following symptoms:
Heartbeats that are unusually rapid
Feeling dizzy
Headache that is severe
Breathing difficulties
The ingredients in this product may be banned by some sports organizations and/or increase the risk of false positives on drug tests. Please consult your sport organization or physician before using this product.
If you are taking any other medications, this product may interfere with them. Consult your doctor before using this product.
Please note:
It is important to note that product images represent the product offered but may not contain the product's exact attributes. Please refer to the product description for more details.
This information is intended only for reference. We strive to keep our information accurate and up-to-date, though we can't guarantee its accuracy. If you have questions or concerns, please check the product's manufacturer website for the latest formulation. The opinion here does not necessarily reflect our views at Same Day Supplements. These are the statements made by the producer of this item. The Food and Drug Administration has not evaluated them. This product is not intended to diagnose, treat, cure or prevent any illness or disease.Blackstone Labs Dust X – Pre Workout !