Bob Geldof: the name alone conjures up images of a charismatic rebel, a force to be reckoned with, an icon in the world of music and activism. From his beginnings as the lead singer of The Boomtown Rats to his tireless work for humanitarian causes, Geldof has had a life that is nothing short of extraordinary. In this comprehensive biography, we will dive into the highs and lows of Geldof's career, exploring his impact on both music and society at large. Get ready to discover the fascinating life and times of Bob Geldof – you won't want to miss it!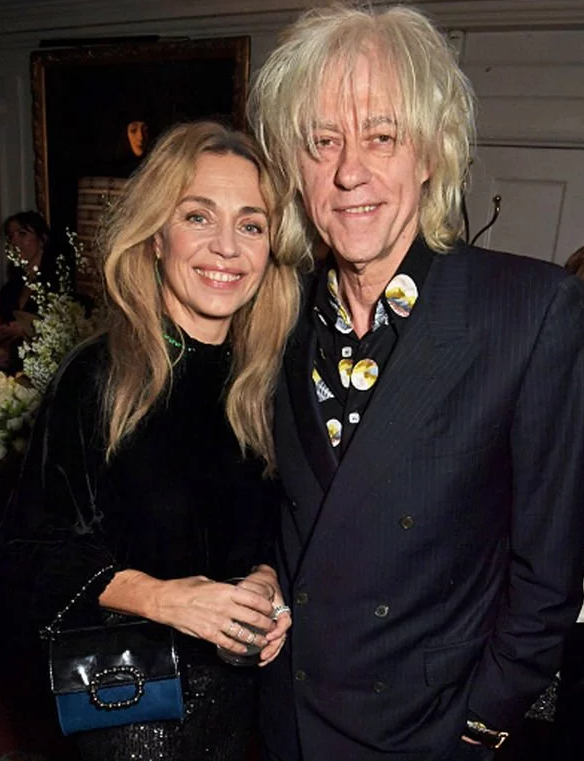 Bob Geldof's Childhood and Early Life
Bob Geldof was born on October 25, 1949 in Dublin, Ireland. His mother, Nora, was a teacher and his father, Joseph Geldof, worked as a bus driver. The family moved to London when Bob was six years old.
Geldof attended a Catholic school in London and became interested in music at an early age. He formed a band with some friends and began playing shows around the city. In 1966, he enrolled at Exeter College of Art and Design to study graphic design but dropped out after two years to focus on music.
In 1969, while touring in Australia with the progressive rock band Humble Pie, Geldof met David Bowie who offered him a spot on his upcoming tour. Geldof accepted and ended up spending two years touring the country with Bowie.
After returning to England, Geldof formed the band Boomtown Rats with former Humble Pie drummer Jerry Shirley and bassist Pete Quaife. The group released their eponymous debut album in 1978 and quickly became popular in Britain thanks to singles like "I Don't Want To Talk About It" and "Rat Trap." The Rats disbanded following Geldof's arrest for drug possession in 1980 but he later reunited with Quaife and released the album Life Begins Again in 1993.
In 1984, Geldof founded the charity organization Band Aid II which organized the recording of a charity single called "Do They Know It's Christmas?" featuring vocals from
Real Name/Full Name
Robert Frederick Zenon Geldof KBE
Nick Name/Celebrated Name:
Bob Geldof
Birth Place:
Dun Laoghaire, Ireland
Date Of Birth/Birthday:
5 October 1951
Age/How Old:
71 years old
Height/How Tall:
In Centimetres –188 cm
In Feet and Inches – 6'2"
Weight:
In Kilograms – 85 Kg
In Pounds – 187 lbs
Eye Color:
Blue
Hair Color:
Grey
Sexual Orientation:
Straight
Social media Accounts:
Twitter
Marital Status:
Married
Girlfriend:
N/A
Wife/Spouse Name:
Jeanne Marine (m. 2015), Paula Yates (m. 1986–1996)
Kids/Children Name:
Peaches Geldof, Heavenly Hiraani Tiger Lily Hutchence Geldof , Pixie Geldof , Fifi Trixibelle Geldof
Parents Name:
Father – Robert Geldof
Mother – Evelyn Geldof
Siblings:
Cleo Elisabeth Geldof, Lynn Geldof
School:
N/A
College:
Blackrock College
Religion:
Atheist
Nationality:
Irish
Zodiac Sign:
Libra
Gender:
Male
Profession:
Song-writer and political activist
Net Worth:
$170 million
Last Updated:
2023
Bob Geldof's Musical Career
Bob Geldof was born on November 15, 1949 in Dublin, Ireland. He is the son of a musician and singer named Tom Geldof. After graduating from Trinity College in Dublin, Geldof moved to London in the early 1970s and started working as a journalist for various newspapers. He soon began writing music reviews for the weekly music newspaper "Melody Maker".
In 1977, Geldof met the members of The Boomtown Rats and they later signed with independent record label CBS Records. The Rats released their debut album that year and it became a success. The band toured throughout the UK and Europe and their second album, "The Streets of San Francisco", was released in 1979.
In 1980, Geldof founded the charity organization Band Aid which helped raise money to support famine victims in Africa. The group consisted of artists such as U2, Bruce Springsteen, Paul McCartney, David Bowie and Elton John. Band Aid released its first single, "Do They Know It's Christmas?", in 1984 and the single reached number one on both the UK Singles Chart and US Billboard Hot 100 chart. The song raised over $50 million for famine relief efforts.
In 1985, Geldof formed the supergroup Boomtown Rats with Mick Taylor (guitar), Ron Wood (bass) and Pino Palladino (drums). The group recorded two albums: "Touched by Fire" (1987) and "Wasted Youth"
The 1989 Live Aid Concert
In July of 1985, Bob Geldof and Midge Ure released the single "Do They Know It's Christmas?" The song was written as a fundraiser to help the famine victims in Ethiopia. The song became an international hit, and Geldof utilized the momentum to organize the world's first charity concert – Live Aid – in London's Wembley Stadium on July 13th, 1985.
The event was broadcast around the world and raised over $100 million for famine relief. Performers included U2, Bon Jovi, Phil Collins, David Bowie, Sting, Elton John and more than two dozen other artists. Michael Jackson appeared at the show but had to Cancel due to his illness.
Geldof has since continued his activism through Band Aid 20 (1997), Do It For Darfur (2007) and most recently Feeding Africa (2015). He remains one of the most recognizable faces on global philanthropy.
The Band Aid 20 Concert
The Life and Times of Bob Geldof: A Comprehensive Biography
Bob Geldof was born on October 15, 1945 in Portlaoise, Ireland. He is the son of a civil servant and raised in Dublin. Geldof became interested in music at an early age and started playing the guitar at the age of 14. In 1963, he formed a band called The Hectics with schoolmates. The group released two unsuccessful albums before they broke up.
Geldof then moved to London to study art history at University College London (UCL). While there, he met Sting and they formed the band The Police. The Police quickly became international superstars and Geldof served as their lead singer and primary songwriter. In 1984, the group disbanded and Geldof began working on a solo project.
In 1986, Geldof released his debut solo album, Feel Good Lost. The album failed to achieve commercial success but it did win him critical acclaim. In 1987, he released a second album entitled All That You Can't Leave Behind which was more successful than his first. The album won him four Grammy Awards including Best Rock Album and Best Song Written for Visual Media (for "Message in a Bottle").
In 1995, Geldof founded the charity organization Live Aid with U2 singer Bono. Live Aid was designed as a means of raising money for famine relief in Africa but it soon became an international event that drew hundreds of
The White Shadows and After the Storm
The Life and Times of Bob Geldof: A Comprehensive Biography
Bob Geldof was born on November 15, 1945 inammersley, England. His father, Leslie Edward Geldof, was a civil servant and his mother, Nora Eileen (née Crozier) was an orthopedic nurse. After attending primary school in Bristol and then boarding school in Ireland, Geldof graduated from the University of Oxford with a degree in Philosophy, Politics and Economics.
Geldof moved to London in 1967 to pursue a career in music journalism. He joined the magazine "Melody Maker" as a junior editor and made his writing debut with an article about The Beatles' visit to Britain. Geldof became assistant editor of "New Musical Express" in 1969 and editor-in-chief in 1972. During his time at "NME", he helped launch the careers of bands such as The Rolling Stones, U2, Dire Straits and Queen.
In 1984, after years of campaigning for famine relief organizations such as Live Aid and Band Aid, Geldof founded the charity Peacock Foundation which raised over £60 million for humanitarian causes. In 1985 he directed the song "Do They Know It's Christmas?" which became an international hit single raising money for UNICEF.
In 1990 Geldof formed the pop group Boomtown Rats with Pete Doherty, John Lydon and Mick Jones. The group
Bob Geldof's Wedding to Paula Yates
On October 25, 1986, Bob Geldof married Paula Yates at a private ceremony in a vineyard near the couple's home in Kent. The ceremony was attended by close friends and family, including the singer-songwriter John Lennon. Just weeks after the wedding, Geldof and Yates announced their separation. They divorced in 1988.
Geldof had two daughters with Yates: Peaches (born November 16, 1988) and Pixie (born May 24, 1991). He also has a daughter from his previous marriage to music journalist Mandy Smith: Tiger Lily (born December 14, 1984). Geldof has since been married three times – to Jeanne Marine (1995), Martha Quinn (2000), and Stella Tennant (2004). He has six grandchildren: Astala jonny Lewis (b. 2004), Rocket Richard Tennant (b. 2006), Willow Sage Tennant (b. 2008), Donny Ray Tennant Jr. (b. 2010), Eliza Jane Tennant (b. 2012), and Genevieve Louise Tennant (b. 2014).
Bob Geldof was born on December 24, 1945 in Kent, England. After a brief stint as a school teacher, Geldof became a music journalist and promoter. He hosted the BBC2 show "The Old Grey Whistle Test" from 1975 to 1981. In 1984, he founded the charity Live Aid with Midge Ure and George Martin. The event raised over $135 million for famine relief in Africa. Geldof has also written several books, including "Boys Don't Cry" (1991), which tells the story of an Irish rock band that tours Ethiopia during the famine of 1984-1985; "Live from New York" (1994), which chronicles his tour with U2 in support of their album "The Unforgettable Fire"; and "Do They Know It's Christmas?" (2007), a collection of essays about Christmas traditions around the world. Geldof was awarded a CBE in 1992 and an honorary doctorate from University College Dublin in 2006. He died on April 7, 2014 at the age of 71 after suffering from cancer for two years.
Bob Geldof's Wife, Paula Yates
Bob Geldof's wife, Paula Yates, was born in 1957 in Essex, England. She was the daughter of a bus driver and an actress. As a child, Yates attended a girls' boarding school in Kent and then studied dramatic art at the University of East Anglia. After graduation, she moved to London to pursue an acting career.
Yates met Geldof while they were both working on the television show "The Bill" in 1984. The couple married the following year and had two children together: Peaches Geldof (born 1987) and Tiger Geldof (born 1990). In 1991, Yates filed for divorce from Geldof after he admitted to affair with singer Mica Paris. The divorce was finalized in 1992.
Since her divorce from Geldof, Yates has been involved in several controversial incidents. In 2003, she was arrested for possession of cocaine and cannabis after being stopped by police while driving in southwest England. Later that year, she was hospitalized after suffering a mental health crisis following the death of her father. Yates later revealed that she had been using drugs and alcohol at the time of her father's death.
In 2016, Yates announced that she had been diagnosed with pancreatic cancer and would be undergoing treatment abroad. She died on December 23rd of that year at the age of 51 years old
Life after Marriage to Paula Yates
Known for his work with Band Aid, Live Aid and the Make a Difference campaign, Bob Geldof was one of the most influential figures in British music during the 1980s and 1990s. Born on October 15, 1945 in Dublin, Ireland, Geldof began his career as a singer with the Irish group The Humblebums. He later formed the band Boomtown Rats before achieving international success with Band Aid in 1984. With proceeds from the charity single, Geldof helped to raise money for famine relief in Africa. In 1985, he released his solo album Do The Unstirred Potatoes and toured worldwide.
Following his successful stint as a musician, Geldof became involved in activism. He co-founded Amnesty International and was a regular speaker at anti-war rallies throughout the 1980s and 1990s. In 1995, he published Life After Death: A User's Guide which documented his experiences living without an apparent end goal or purpose. Geldof continued to work on humanitarian projects until his death on May 25th 2004 at the age of 50 after suffering from pancreatic cancer.
Bob Geldof's Children
Bob Geldof was born on October 15, 1945 in the small town of Derry in Northern Ireland. His father, also named Bob, was a truck driver and his mother was a nurse. Geldof's early years were quite difficult; he and his family lived in abject poverty and suffered from frequent food shortages. In 1951, when Geldof was just three years old, his family immigrated to London, England.
Despite the hardships of growing up in London, Geldof found himself incredibly lucky. He attended a number of prestigious schools, including Stowe School and Eton College, where he developed an interest in music and poetry. After graduating from Eton in 1966, Geldof briefly studied law at London University before dropping out to pursue a music career.
Geldof's music career began modestly; he played guitar in a band called The Boomtown Rats. In 1969, however, The Boomtown Rats recorded the song "I'm Not Gonna Give You Up" and it quickly became one of the most popular rock songs of all time. The song made Geldof a household name and paved the way for his successful career as a musician.
In 1984, Geldof founded the Band Aid charity event with the goal of raising money to help famine-stricken Africa. The event became an international sensation and raised over $30 million dollars for famine relief efforts. It is estimated that Band Aid saved over 1 million lives
Death of
Bob Geldof, one of the most iconic musicians and activists in history, died on Friday at the age of 74 after a long battle with AIDS.
Geldof was born on October 20th, 1945 in Dublin, Ireland to parents Dickie and Eileen. He was educated at Wesley College in Dublin and Trinity College, Dublin where he met fellow musician/activist/judgeU2 frontman Bono. The two formed their first band, The Hype, in 1965. In 1969 they released their first album, which included the song "The Wanderer."
In 1973 Geldof joined Elastica as a rhythm guitarist and vocalist. The group released two albums before splitting up in 1976. That same year Geldof helped form the charity Band Aid with U2's lead singer Bono, Queen's Brian May and David Bowie. The goal of Band Aid was to raise money for famine relief in Ethiopia. The project raised over $55 million and is still the highest grossing music charity ever.
In 1984 Geldof founded the charity Live Aid with U2's lead singer Bono, Madonna's manager Bruce Springsteen and other celebrities including Michael Jackson, Whitney Houston and Stevie Wonder. Live Aid raised over $363 million and remains the largest global telethon ever staged.
Geldof continued to tour throughout his illness but announced his retirement from live performing in 2013 due to health complications from AIDS. In total he performed over